Register your
EORI Number


in 24 hours
Activate your EORI number in around 24 hours and import into 27 EU countries.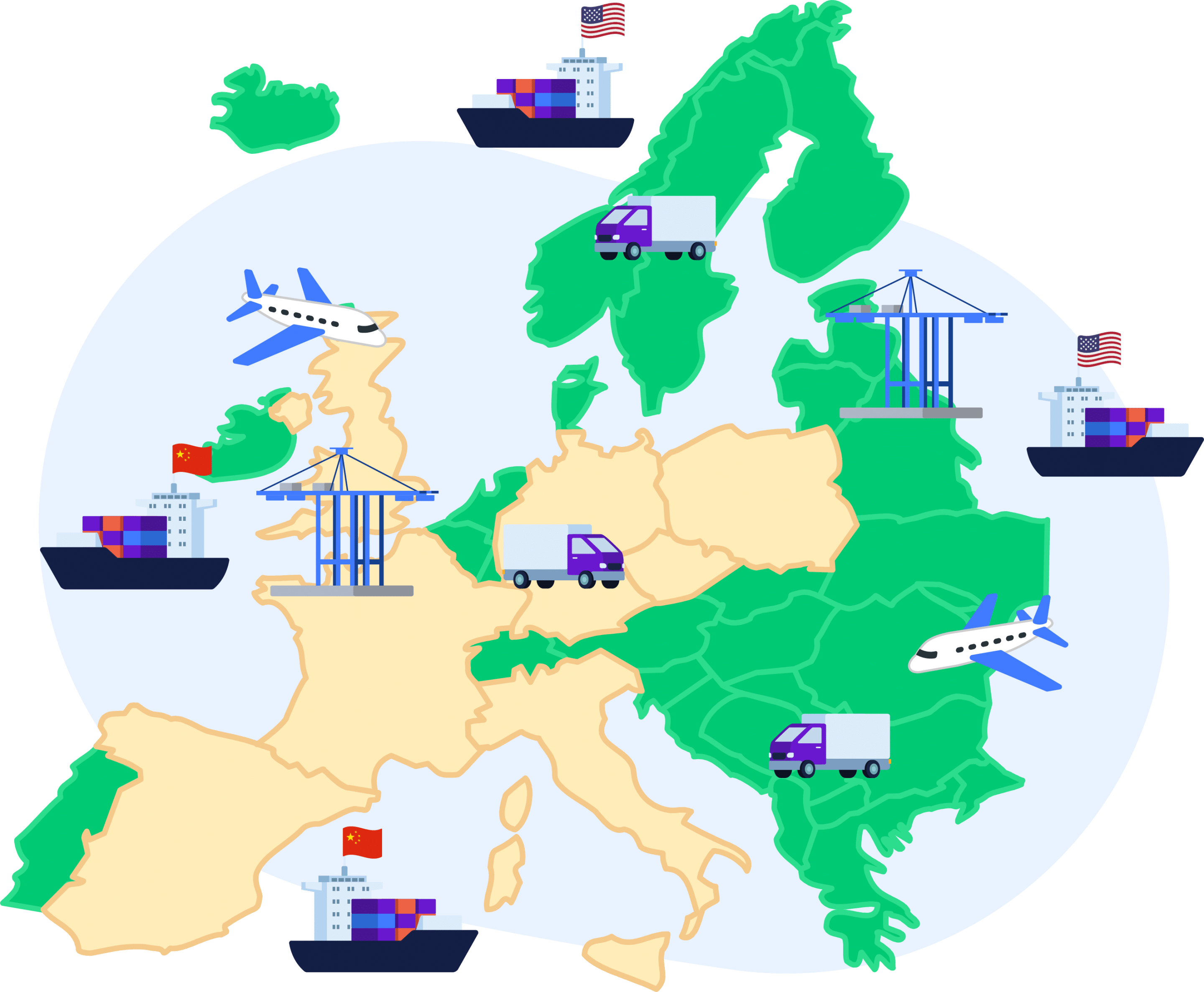 Fast registration, professional help with straight forward pricing and
no hidden fees
Register your EORI today and unlock your oversea's potential;
EORI active in 27 EU countries
Smooth transitions when importing & exporting
No hassle sales to your EU & GB customers
Fast 24 hour registration for EU EORI number
What is an 
EORI Number?
The EORI number or Economic Operator Registration & Identification Number is a unique identification number used by customs authorities through the European Union(EU) and United Kingdom(UK). Brought into force on the 1st July 2009 the EORI replaced the older Trader's Unique Reference Number(TURN). The EORI serves a critical role in importing and exporting goods between customs territories of the EU and UK. The EORI number is a necessary requirement when submitting customs declarations for imports and exports.
Do i already have an 
EORI Number?
If you are a business and regularly import or export from your country then it is highly likely you have an EORI number. You can check with your local customs authority to find out or check your most recent customs declaration.
If you are a UK company you can use the EORI Checker on gov.uk to check the validity of your EORI here
If you are an EU company or have an EU EORI you can use the European commission checker here.
When do i need an 
EORI Number?
The Economic Operator Registration and Identification (EORI) number is required for businesses or individuals who are involved in international trade or customs activities within the United Kingdom(UK), European Union(EU) or countries that have trade agreements with either. You may have multiple EORI numbers for different territories.
This will typically be if;
You import goods from outside the EU to the EU
You export goods from the EU to countries outside
You import or export to/from the UK
You trade with countries including Andorra, Bosnia and Herzegovina, Gibraltar, Guernsey, Iceland, Jersey, Liechtenstein, Macedonia, Moldova, Norway, Switzerland.
Learn more

about the EORI Number

Our FAQ answers the in-depth complicated questions you may have about the EORI Number
Can i get any EORI number?
You may need more than 1 EORI number depending on which countries you are importing or exporting to. Usually you would need one EORI for each jurisdiction. An EU EORI would cover the 27 EU countries, a GB EORI would cover the United Kingdom and an XI EORI special to Northern Ireland would cover both. The correct EORI needs to be used for the declaration to each country on either the import or export side.
Which EU country should i get the EORI?
It's important to note that you may also require a VAT registration in the country of import in the EU if you intend to be the importer of record(IOR). Typically if you have never had an EU EORI before, you should apply for the EORI in the country that you intend to make your first import to. Otherwise as a non-EU business you can choose. If you are a EU business you should apply in your own country.
Can i trade internationally with just an EORI?
Although the EORI is an important part of the customs process it is just one part of the puzzle. There are many customs and compliance obligations you must adhere to when submitting customs declarations and trading internationally.
Do i have to renew my eORI?
Once you have registered the EORI it is assigned to you for life on the database, you do not need to renew it unless for some reason it is de-registered. This could be because you would like an EORI in a different country etc.
Do i need an EORI to send personal items?
If the intended goods are not for commercial use then you do not need an EORI number. You can send gifts, samples, other items such as Christmas presents etc without needing to use an EORI number.
My EORI isn't working?
If for whatever reason customs have held or refused your shipments this could be for a number of reasons. You should first check that your EORI number is valid using the EORI checker resources from earlier in the article. Then contact your shipper to find out the other possible reasons.
Client

Reviews

Hear from 1000's of happy customers
Hayley, Soterra Limited
★ ★ ★ ★ ★
We have used VAT Digital now for 4 years and they have been instrumental in helping us build our business. They are always helpful as well as prompt to answer any queries and with a wealth of knowledge. I would have no hesitation in recommending them.

Jess, Crumbs and Doilies
★ ★ ★ ★ ★
As a small business I found navigating how to register for IOSS incredibly daunting and confusing until I found VAT Digital. VAT Digital enabled my understanding, provided excellent advice and the onboarding process was simple. I would highly recommend VAT Digital and their services
Tony, Eglo UK
★ ★ ★ ★ ★
I use VAT Digital as our agent for VAT in both Germany and Ireland – including setting us up in Ireland. The service we receive is always first class – including timely reminders to submit data when necessary. Whenever I've had queries on the correct treatment of particular items they are always answered promptly and in detail.

Tarun, Basaho
★ ★ ★ ★ ★
Efficient and streamlined service
I've been using VAT digital for 3 years now for all my EU VAT filings. I was with a bigger firm before them and I am very satisfied with the switch. They are very helpful, responsive (this was a major requirement for me) and accurate. Their prices are in line with the market or a little lower. Recommended!
Start your journey with VAT Digital today
Trust VAT Digital to handle your VAT Registrations & Filings across Europe with our exceptional service and communication.